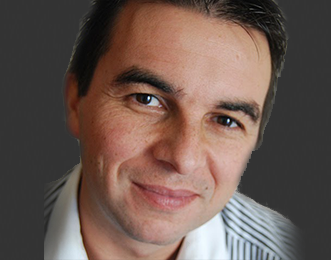 Hi. 1997 seems so long ago. That's the year I started web agency, Marcat, in Glasgow, Scotland. Over the course of 5 years I helped steer the company to 3 consecutive entries in the Deloitte and Touche Fast 50 technology companies. I was also a runner up in the Ernst and Young Entrepreneur of the Year Awards in 2001. Leaving the company I founded in 2003, I created Clearfuse Ltd as a specialist provider of online ticketing and booking applications. This was later renamed to iBooking.com, and changed focus to the development and management of a suite of web based software for the hospitality sector.
In 2004 I grew curious about the development of the paid search marketplace and created Affiliata.com as a vehicle to own and manage a number of affiliate marketing projects and joint venture operations. Over the course of 18 months, the fledgling company earned more than $1.5m from Google AdSense. Affiliata became Clickspace in 2006. Clickspace merged with Dubai-based Forsight in 2008 to form DistinctMEDIA. DistinctMEDIA then became a part of the Clicksco Group in 2010. Clicksco Group now employs more than 200 people globally and delivered more than $80m worth of revenue in 2011. I live and work in Dubai, UAE.
A brief history of my work life…
Past
1997 – As an offshoot of Marcat, created On the Spot Internet to specialise in domain names and web hosting. Now ably run by Stefan Cent, On the Spot is still going strong, maintaining many of the original customers nearly 10 years later! See http://www.onthespot.co.uk.
2003 – Created Clearfuse as a provider of web applications and online business solutions. The move to focus on web applications for online ticketing and booking resulted in the company being renamed as iBooking in 2006.
2003 – First started dabbling in affiliate marketing, learning how to exploit Google's newly launched AdSense product. Initially started as a side interest making a few dollars per day, but quickly became an obsession and evolved into a money-making machine reaching peak earnings of $120,000 a month. Business vehicle affiliata.com created and later relaunched as Clickspace Ltd.
2004 – Helped to launch Clearclick Restaurant, an online booking and customer management solution for restaurants. The company is now renamed Resdiary.com. I remain a shareholder. The business is run by veteran restaurateur, Mike Conyers and now works with more than 4000 restaurants globally.
2004 – My first company, Marcat Multimedia, latterly known as Marcat, further evolved to be known as Vamosa. The company was focussed on the content migration marketplace but shut it's doors in 2010.
2008 – Clickspace revenues grow to more than £5m annually run remotely by a team of around 8 people. In November of 2008, Clickspace merged with Dubai based, Forsight to become a global force in PPC and Price Comparison. Marcus relocates to Dubai and becomes MD of the newly named DistinctMEDIA.com.
2010 – 2016  – Clicksco Group continues to grow and now employs more than 200 people.
Investments
I continue to hold investment stakes in companies I founded or co-founded. This includes Clicksco Group, ResDiary.com, iBooking.com and Performous.com. I also invest in the domain name industry and hold a number of premium domains.